PhoneSuite's Voiceware: Hospitality Solutions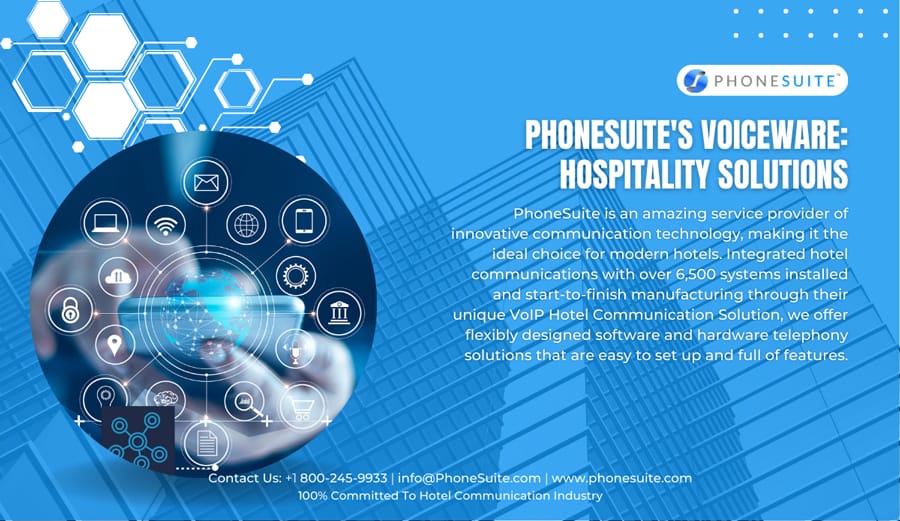 PhoneSuite's Voiceware is a software suite designed for the hospitality industry
PhoneSuite's Voiceware is a comprehensive software solution designed for the hospitality industry, specifically for hotels. It offers a variety of features to enhance the guest experience and streamline communication between guests and hotel staff.
Voice recognition and response: Guests can use voice commands to interact with the phone system, such as to check their voicemail, schedule a wake-up call, or request information about the hotel.
Voiceware also provides tools for hotel staff to manage and monitor the phone system, such as real-time call monitoring, call reporting, and call forwarding. It also offers the ability to integrate with hotel's Property Management Systems to provide guests with an easy check-in and check-out process.
If you operate in the hospitality/lodging industry and want to enhance your phone systems and capabilities without spending a fortune, you should check into Voiceware by PhoneSuite.
Voiceware is a telephone system solution designed by hoteliers for hoteliers, so you can be confident that it will have most of the capabilities you require and desire for both your visitors and your employees. Voiceware provides comprehensive wake-up calls and voicemail holding lights that turn on and off precisely for a better guest experience. Furthermore, it may prioritize emergency 911 calls and tell the front receptionist which rooms require assistance.
You can set phone numbers of nearby takeout restaurants with which your hotel has a relationship for the benefit of your clients. Voiceware will be popular with your front-desk personnel as well, owing to its simple interface that demands minimal training to get started! As visitors check in and go, staff may easily activate and deactivate phones.
They may simply obtain prints of phone bills per room and even track which visitors responded to their morning wake-up calls. Voiceware is capable of so much more, and you won't even need to update a single phone in a single room.
Hospitality System
In hotels, having a solid communication network is critical. It facilitates and smoothes communication between visitors and staff members. As a result, it is critical that a hotel has an exceptional telecommunication network for streamlined and smooth communication between people, employees, and other locations.
The hotel's telecommunications system features individual IDs for each room. This allows the staff to determine which room they are interacting with. Furthermore, it improves the hotel's customer service and enables them to deliver the greatest advice and assistance to their consumers. We recognize the significance of a solid hospitality system in hotels.
This is why we make certain that you have the ideal method for enhanced communication. We offer the greatest technology and services, and we are also specialists that understand all of the features and functions required for an effective communication system.
So, if you're seeking a provider that can supply you with the greatest phone system for hospitality, PhoneSuite is your perfect choice.
Voiceware
The PhoneSuite Voiceware system is the modern phone system we supply for hotel telecommunications. This is one of the greatest and most practical systems, and it is utilized by thousands of hotels throughout the world.
SIP is a breakthrough technology used by Voiceware. This is one of the most sophisticated methods of communication available. This eliminates the need for hotels to acquire add-on software. A hotel may construct a robust and rapid telecommunication network using SIP. It is constantly improving the hotel PBX function without investing in costly equipment.
The greatest part about this program is how many functions it contains. Rather than creating new wired infrastructure, it makes use of the current one. It is also PMS compatible and has built-in Call Accounting as well as a separate voicemail option for guests and workers. As a result, this is one of the most excellent software solutions for meeting all of the demands of a hotel's communications network.
Fantastic Features of PhoneSuite's Voiceware:
VoIP/SIP Technology:
This technology has been meticulously designed to be compatible with all hotels. It is extremely adaptable and expandable, allowing hotels to update at a cheap cost.
Call Accounting
This program also enables you to capture and report crucial information over the phone. This system is critical to the smooth operation of your hotel.
Voicemail
Voicemail: Guests can access their voicemail messages via the phone or by logging into their voicemail account online.
Voiceware enables staff and guests to record and transmit voicemails between themselves. This feature is advantageous since it improves the hotel's effectiveness. It also displays the caller ID, date, time, and length of the voice call. Voice communication can also be saved, deleted, or forwarded.
Message delivery: Guests can receive messages directly to their room phone or via email.
Wake-up Calls
Guests can schedule wake-up calls through the phone or browser console.
Two Deployment Options
The system offers two alternative configurations. The first is hybrid (on-premises), and the second is hosted (Cloud-Based). You can select any of the options based on the needs of your hotel.
Safe and Secure
Another outstanding advantage of this method is that it is one of the most secure ways. All of your personal data, calls and communications will remain secure at all times.
Advantages of Voiceware
Voiceware is particularly created for the hospitality industry.
This technique is incredibly cost-effective. This implies that it makes use of current infrastructure, lowering the cost of system installation.
It helps the staff and other employees to provide the greatest possible service to the clients and guests.
Another amazing feature of this program is that it will never become obsolete. Because it is a server-based technology, you simply need to update the software rather than purchase a new one.
It also provides immediate access to 911. When a visitor or employee contacts 911, the call is routed to the EMS system and includes the hotel address, contact information, and even the extension number.
In summary, PhoneSuite's Voiceware is a communication solution for the Hospitality Industry, it increase guest satisfaction and provides easy communication between the hotel's staff and guests.
PhoneSuite is a remarkable service provider that provides a wide range of services. Voiceware software for hospitality systems is one of them. This is one of the top software options for improving hotel communication. It allows the personnel to deliver the best possible service to the guests while also allowing for easy communication.
It is also favored and certified by major hotel chains throughout the world. If you're ready to make the switch to a modern & innovative phone system, talk to Phonesuite today.
Curious about the cost or installation process? Get in touch today.