How VoIP & eSIMs Can Help You Stay Connected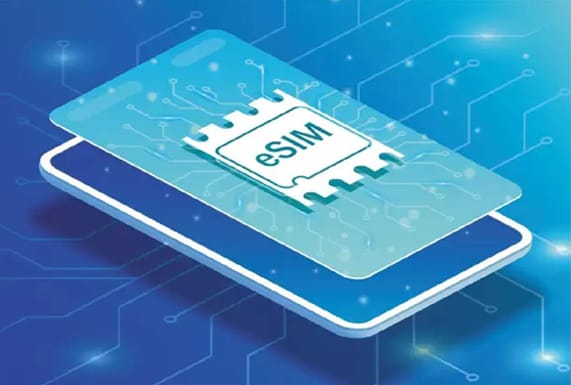 The benefits of eSIM technology have already been realized in the consumer market, and businesses are now starting to see the benefits of using eSIM services for their communication needs. With VoIP protocols being used on eSIM applications, users can take advantage of better call quality and reduced roaming charges. Let's take a closer look at how eSIMs are changing the way we stay connected. An eSIM is a digital version of the physical SIM card—identifying your device virtually to provide network connection. It's programmable remotely via software and is built into newer smartphones, meaning you wouldn't have to go purchase a new SIM card if you wanted to swap phones or wireless carriers.
What is the purpose of an eSIM card?
eSIM offer a number of benefits for users, including the ability to store multiple phone numbers on one device, use VoIP technology for better call quality, and take advantage of reduced roaming charges. eSIMs are also more secure than physical SIM cards, as they cannot be physically misplaced or stolen.eSIM is the digital version of the plastic SIM card. Built into the phone, the SIM can be provisioned instantly and without any external factors. eSIMs are supported by major carriers only — U.S. wireless carriers that support eSIM cards are AT&T, Verizon, T-Mobile, and Truphone. On an unlocked phone, you may choose two different phone plans for your regular SIM and eSIM cards.
How do I get an eSIM?
If you're interested in using an eSIM for your business needs, you'll need to select a carrier that offers eSIM services. Once you've selected a carrier, you'll be able to activate your eSIM through their website or app.
What are the benefits of using VoIP on an eSIM?
VoIP or Voice over Internet Protocol is one of the most popular ways to stay connected while on the go. By using a virtual private network (eSIM) with VoIP services you can take advantage of call quality and reduced roaming charges as well as make calls over an internet connection instead of having bad cellular reception in your area.
Despite their growing impact on mobile technology since 2017, eSIM cards are still easy to miss with all those other cool phone features vying for your attention. Already adopted on new Apple, Google, Samsung, and Motorola phones, tablets, and smartwatch models, electronic SIM cards (or eSIMs) boast special convenience for frequent travelers and busy entrepreneurs. They are also the first steps in the transition to an eSIM future and further facilitation of the Internet of Things (IoT).

For home-based practices and small businesses, an eSIM isn't any different from using a dual-SIM phone. Differentiating business and personal calls can get confusing, and except for the convenience of an extra number and voicemail, your clients won't get the same kind of service that a business phone system implies.
Can I make business calls with an eSIM?
Yes, you can! With an eSIM, you can make and receive business calls just like you would with a physical SIM card. Travel flexibility and business purposes are two of the most widely advertised applications for eSIM cards. You can get a second phone number with an eSIM and assign that number to specific purposes, such as making and receiving business calls.
An eSIM card is a good option for those who need to make occasional business calls. It provides the convenience of having another number, but keep in mind that it does not provide professional-level presence or privacy like other phones can offer you with their standard Voice over Internet Protocol (VoIP) technology where no data plan needs registration on multiple devices simultaneously.
Conclusion
An eSIM card is a good way to save on communications network costs during international travel and switch plans effortlessly on carrier-neutral/unlocked phones. However, if you're looking for a professional, cost-effective wireless service for business purposes, you'll definitely want to look into a VoIP (Voice over IP) virtual phone system. With integration Phonesuite VoIP Cloud PBX System for Hotel Hospitality Industry. Phonesuite Console Browser and Native App convenient way Hotel Industry Communication Wake-up Calls. Phonesuite's more cost effective software designed for limited service, economy and non-branded/independent hotel needs. Why not incorporate the same communication technology into your operation for all hotel sizes.
Curious about the cost or installation process? Get in touch today.