Curious About the Cost?
We work with you on a custom estimate that fits your needs.
Time to Take the Next Step
If you're going to invest significant capital in a new phone system, the last thing you want is for that system to become obsolete a few years after you buy it. With Phonesuite, you're getting a future-proof technology platform that will remain relevant for decades to come — as long as the internet doesn't go anywhere.
Phonesuite has been serving hotels — and only hotels — since 1988. We've installed our VoIP PBX systems in over 6500 hotels, from tiny boutiques to international chains, and have cemented our position as the only provider preferred by all major hotel brands.
Why Switch?
Cost Savings: Significant savings compared to an analog PBX
Scalability: Making changes to phone lines is simple
Efficiency: free up your staff to do their best work
Privacy and security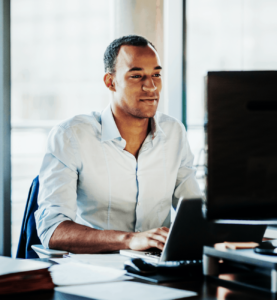 Let's Start a Conversation

The real beauty of a VoIP system is that it's customizable — you can customize it to do whatever you need, depending on the specific pain points and offerings of your hotel. If you're interested in upgrading your hotel's phone system, let's get started!