The Real-Time Revolution: What Every Hotel Marketer Needs to Know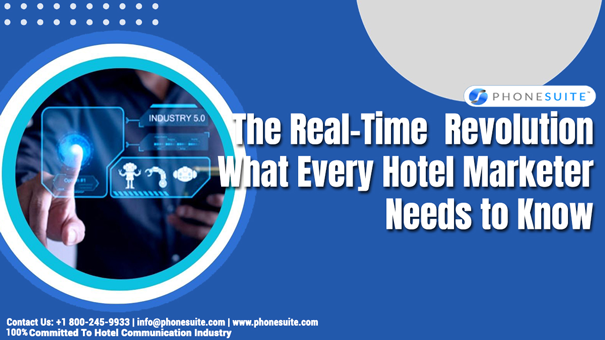 As we enter a new decade of digital transformation, hotel marketing teams are under increasing pressure to ensure their properties become and remain competitive in the marketplace. The customary approaches which dominated the industry for decades no longer suffice as guests demand near-instantaneous engagement with hotels and brands––and this is where real-time marketing comes into play. Through real-time data analysis generated from multiple sources, today's marketers have deep insights into evolving guest preferences and behaviors that can be harnessed to optimize customer experiences at every stage of their journey. In this blog post, we will explore how the revolution of real-time marketing could benefit your hotel business.


Context Of Hotel Marketing
The "Real-Time Revolution" in the context of hotel marketing refers to the increasing emphasis on leveraging real-time technologies, data, and communication strategies to enhance the guest experience, engage with customers, and drive bookings. As the hospitality industry becomes more digitally connected and guest expectations evolve, hotel marketers need to stay updated on these trends to effectively promote their properties and cater to their target audience. 
Here are some key points that every hotel marketer should be aware of:
Personalized Guest Experiences: 
Real-time data analytics and guest profiling allow hotels to understand their guests better and tailor experiences to their preferences. By analyzing guest behaviors and preferences in real-time, marketers can offer personalized recommendations, room upgrades, and services that cater to individual needs.
Dynamic Pricing: 
Real-time dynamic pricing strategies involve adjusting room rates based on supply and demand, competitor pricing, and other market factors. Hotel marketers can use real-time data to optimize pricing and promotions, ensuring they capture the maximum revenue while staying competitive.
Instant Booking: 
Real-time booking systems and online travel agencies (OTAs) allow guests to make reservations immediately. Hotel marketers should ensure that their booking platforms are user-friendly, mobile-responsive, and offer instant confirmations to meet the growing demand for seamless booking experiences.
Social Media Engagement: 
Real-time engagement on social media platforms is essential for building relationships with potential guests and addressing their concerns promptly. Marketers should monitor social media channels, respond to inquiries, and leverage real-time social listening tools to understand guest sentiments and adapt their strategies accordingly.
Live Virtual Tours: 
Virtual tours and live streaming can provide potential guests with real-time glimpses of your property's amenities, rooms, and surroundings. This immersive experience can help guests make informed decisions and enhance their anticipation of their stay.
Instant Messaging and Chatbots: 
Real-time communication through messaging platforms and AI-powered chatbots allows hotels to provide instant assistance to guests. Marketers can use these tools to address queries, offer recommendations, and provide personalized information.
Geolocation and Beacons: 
By using geolocation technology and beacons, hotels can offer real-time notifications and special offers to guests when they are in proximity to the property or specific amenities. This can enhance guest engagement and drive on-site spending.
Reviews and Reputation Management: 
Monitoring online reviews and responding promptly to feedback is crucial for maintaining a positive reputation. Real-time reputation management can help address negative comments swiftly and showcase your commitment to guest satisfaction.
Event Promotion: 
If your hotel hosts events or conferences, real-time marketing can help attract attendees by promoting event highlights, last-minute deals, and updates as they unfold.
Crisis Management: 
In times of crises, such as natural disasters or global events, real-time communication is vital for ensuring guest safety, managing reservations, and addressing concerns.
The "Real-Time Revolution" empowers hotel marketers to engage with guests throughout the entire customer journey, from researching options to post-stay feedback. By embracing real-time technologies and strategies, hotels can create memorable guest experiences, increase bookings, and maintain a competitive edge in the dynamic hospitality industry.
PhoneSuite Hotel Software For Housekeeping
Keeping up with today's ever-evolving hotel hospitality phone system landscape can mean the difference between success and stay static. Potential guests expect a higher degree of service, making it even more important for hotel marketing teams to properly equip themselves through real-time software updates – this is especially critical in giving patrons what they need during their stay. So if you're looking at housekeeping software options, let's briefly explore some features that will give your team an edge against the competition!
In today's world, it is important for all businesses to have a mobile-friendly option. Your housekeeping software should be accessible from both smartphones and tablets so that your staff can access it while on the go.
Guests aren't the only ones who enjoy convenience and efficiency – your housekeeping staff does too! By investing in a mobile solution, they can access their daily to-do list, prioritize tasks with ease and get real-time updates on guest arrivals or departures. Imagine how helpful this would be for busy hotel personnel as it allows them to manage time more effectively while maintaining high standards of service.
Reporting is essential for tracking the performance of your housekeeping staff. Your software should include reports on things like cleaning times, the number of guests served, and any special requests made. This information will help you to identify areas where your staff may need more training or assistance.
With configurable reports, you can customize your hotel's information-gathering process and tailor it to suit your needs. Keep track of room occupancy levels with the Room Status Report, monitor Cleaning Schedules for efficient operations, or analyze Housekeeping Staff Performance for maximum effectiveness.
It is important for your housekeeping staff to be aware of upcoming events so that they can plan accordingly. Your software should include a calendar of upcoming events so that your staff can plan accordingly.
Ensuring the housekeeping staff is organized and efficient is a breeze with dedicated software. Creating daily tasks for each team member allows you to maximize efficiency, while monthly task lists can ensure everyone knows their responsibilities in advance – taking stress off of managers' plates. Housekeeping technology presents an invaluable tool when it comes to optimizing performance.
Housekeeping PMS Management
Your housekeeping software should be integrated with your property management system (PMS) so that all of your guest information is in one place. This will allow your staff to easily access guest information and make changes as needed.
For hoteliers looking to get the most out of their operations, integrating housekeeping software with a powerful property management system (PMS) is an absolute must. This solution ensures comprehensive access and visibility over all operational data in one unified place – giving you invaluable insights that can help guide key strategic decisions affecting your business. Maximize efficiency while keeping track of each room's status: PMS-integrated housekeeping is essential for any well-run hospitality establishment.
Room Update Configuration
Your housekeeping software should include information on the configuration of each room in your hotel. This includes things like the number of beds, type of bedding, and any special features or amenities that are available in each room. This information will help your staff to properly prepare each room for guests.
Phonesuite's hotel housekeeping software is designed to ensure your rooms meet the highest standards of cleanliness. Detailed instructions can be left for each room, allowing staff to check everything from bed linens and fixtures before entering. Additionally, if any issues are noticed in a room while cleaning – like broken switches or missing items – this can quickly be updated on the system for maintenance teams to take note of and address accordingly.
It is important for your housekeeping staff to be aware of when guests are arriving so that they can be prepared for their stay. Your housekeeping software should include information on guest arrival times so that your staff can be prepared.
With this feature, your staff can stay ahead of the game by keeping track in real-time of which guests are arriving today and their designated rooms. This way you'll always be one step closer to making sure all respective lodgings are completely prepared for occupancy – faster than ever before! Providing such efficient service builds strong relationships with customers and leaves them more likely to come back again.
Access Control to your housekeeping software should be restricted to authorized personnel only. This will help to ensure that sensitive guest information is not accessed by unauthorized personnel.
To keep your staff on task, make sure they have a limited view of their work information. With Phonesuite software, you can create tailored access levels so each employee is only seeing what pertains to them. For instance, housekeepers will have exclusive control over the housekeeping module while bypassing sensitive areas like the booking engine and payments – giving you an extra layer of control for greater security!
Real-Time Room Status Update
Your housekeeping software should have the ability to provide guests with real-time updates on the status of their rooms. This includes information on whether the room is clean, what time housekeeping will be by, and any special requests that have been made.
Housekeeping software facilitates real-time communication between your front office and housekeepers within PMS, meaning that staff can quickly update room statuses in an instant. Not only does this keep track of day-to-day operations more efficiently, but it also allows for easier accommodation if you have any surprise visitors!
Conclusion
Phonesuite Solution offers the features that every size business needs. The software is constantly updated in real-time, so guests always have the most up-to-date information. The software is also user-friendly and provides a high level of service. Transform your business with PhoneSuite's hospitality products and services! Discover how the right solutions can help you maximize efficiency and increase guest satisfaction.