VoIP Solutions for Small and Medium Businesses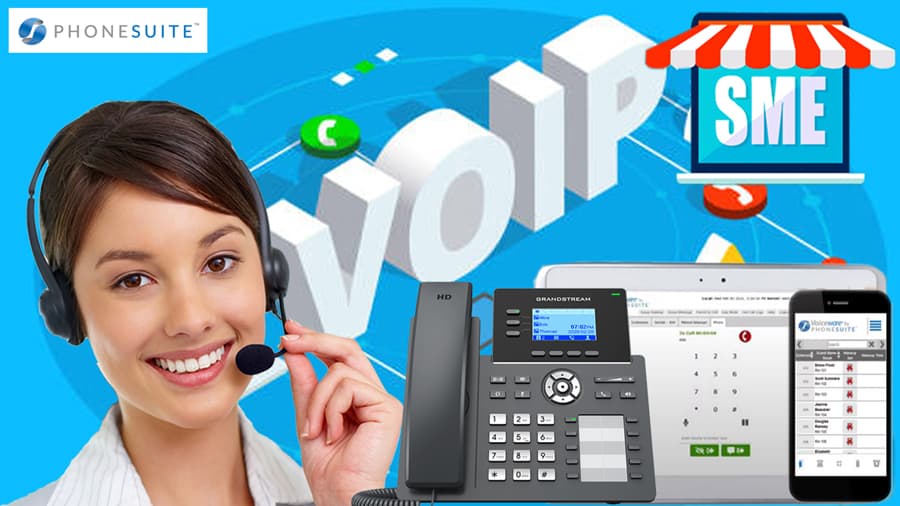 Making the decision to switch to VoIP for your small or medium business is a wise choice that can offer many benefits. In this blog post, we will discuss some of the main advantages of VoIP solutions over traditional landline phone systems. VoIP is becoming increasingly popular due to its many benefits, which include excellent call quality, cost-effectiveness, flexibility, simplicity, increased productivity, and more. If you are looking for a more efficient and cost-effective way to communicate with your employees and customers, then VoIP may be the right choice for you!
Edge in the Market
VoIP not only connects you with thousands of leads at little cost, but it also gives your business an edge over other competitors by making them more visible and accessible. Using VoIP for your small or medium business can give you an edge in the market. With VoIP, you can make calls from anywhere with no long-distance fees and have access to many advanced features that are not available on traditional landline phone systems. With VoIP, you can quickly switch between different devices such as desktop phones, laptops, tablets, and smartphones. This means you can use your mobile device to make calls when away from the office, giving you more freedom and flexibility to work wherever you need to be.
Exceptional Call Quality
VoIP offers high-quality audio and video streaming, allowing you to communicate with your customers and employees without worrying about dropped calls or poor sound quality. VoIP also allows for conference calls which can help businesses save time by having multiple people in one call.
In-depth Calling Features
With PhoneSuite VoIP solutions, you can enjoy features like call forwarding and transfer as well as IVR. You will also be able to take advantage of virtual numbers that allow for more creativity in business branding! These features can help businesses increase efficiency and productivity by automating certain tasks and allowing them to quickly respond to customer inquiries or requests.
Productiveness
Using VoIP for your small or medium-sized business can help increase productivity by streamlining communication and providing more efficient ways to connect with customers and employees. VoIP can be an incredible tool for any business, and it's no different when you integrate the right system. With one click of a button, your employees will have access to make calls on their computer or phone without having to worry about finding a dial-up internet connection again! Additionally, modern VoIP systems seamlessly connect with CRM software so that all data is always up to date whether its contact information from previous sales conversions – everything happens in real-time using PhoneSuite innovative technology.
Multi-Functionality
VoIP systems are more than just a way to make and receive calls. They can also incorporate other features, like the predictive dialer or cloud PBX that will help your business communicate seamlessly with each other while automating some tasks in between exchanges so you never have hassles getting things done! VoIP solutions can also be used for communication tasks such as web conferencing, video conferencing, and instant messaging. This allows businesses to collaborate and share information more quickly and easily than ever before.
Flexibility
VoIP is the best option if you want to conduct your business anytime, anywhere as long as there's a computer and stable internet connection. VoIP also makes it easy for companies of all sizes because they can grow alongside their call centers! VoIP solutions offer flexibility in terms of scalability and pricing. You can easily scale up or down the number of lines you need according to your business's needs. In addition, VoIP plans are generally more cost effective than traditional landline phone systems.
Simplification
VoIP solutions are easy to use and can be quickly set up with minimal technical knowledge. This makes it easier for small and medium businesses to start using VoIP without a large investment in hardware or complicated setup procedures. With PhoneSuite, you can get your business VoIP services up and running in no time. Plus with a few simple configurations for call forwards or park numbers, it's just like being at work! The best part about this system is how easy it will be on employees who are new to the technology because they don't have any special skills needed other than knowing which button does what when setting their phone dialing options."
Financially Rewarding 
VoIP is an excellent way to improve employee productivity and communication. With one click, you can make calls with your employees from anywhere in the world! Additionally, modern VoIP systems are seamlessly integrated into any CRM system meaning that they will always have access to all of their data too – making this revolutionary technology really useful for businesses everywhere.
See For Your Self
Hoteliers need a reliable and high-tech phone system that will keep up with their fast-paced business. Phonesuite has been installing the latest in VoIP technology for 25 years, so we know what it takes to make sure your hotel is running smoothly no matter how much traffic or excitement there may be at any given time. With our VoIP solutions, you'll get all the features and functionality of a modern phone system, while saving money on your monthly bills. Give us a call today to find out how VoIP can benefit your hotel business!
Curious about the cost or installation process? Get in touch today.