Using Technology to Transform Your Hotel Business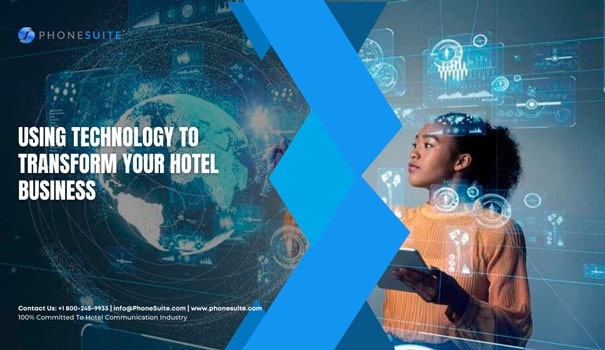 Innovation in the hotel industry is crucial in order to stay ahead of the curve and meet the needs of modern travelers. Technology has changed the way we market our hotels, book rooms, and manage our properties. In this blog post, we'll take a look at how technology is evolving and changing your hotel business. We'll also discuss how you can use technology to your advantage to improve your bottom line. the reader may want to know about how technology affects their specific industry. For example, if you are a hotelier or work in the hospitality industry, this blog post is for you! If you work in another field, consider how advancements in marketing or sales technologies can help improve your process or product. As we continue to face new challenges and opportunities posed by technology, it's important that we all understand how it can be used to our benefit. Thank you for reading! I hope you enjoy this post!
How Technology Is Impacting The Hotel Industry
The hotel industry is undergoing a transformation, thanks to recent advances in technology. Digital check-ins, keyless entry, and convenient mobile apps have all been developed with the goal of simplifying the process for both customers and hotel staff. Voice-controlled devices can now be found in many hotel rooms, allowing guests ease of use for finding information about their stay, requesting services, and ordering room service. 
Not only are these technologies making it easier for customers to connect with the hotel itself, but they're also leading to more efficient business operations in terms of managing guest data and other duties that were previously performed much slower. The possibilities seem endless – soon we may even be able to access our findings with a simple voice command! It's an exciting time for both hospitality professionals and their customers as this new era of hospitality unfold.
How Online Booking Platforms Are Changing The Way Customers Book Rooms
Online booking platforms have made it easier than ever for customers to book hotel rooms. Not only are these platforms convenient, but they also make for easier comparisons between rates, amenities, and locations. Customers can search based on their preferred criteria and find the perfect accommodation for any travel budget. 
With a much larger selection of hotels now at their fingertips, customers no longer have to waste time searching dozens of sites to find the right one; they can access everything they need with just a few clicks. Best of all, many online booking platforms offer discounts and other deals that can help save customers money while providing them with an enjoyable experience overall. Ultimately, online booking platforms have given customers more options than ever before when booking hotel rooms—and that's something worth celebrating!
Mobile Apps Are Making It Easier For Guests 
Mobile apps have revolutionized the way people book hotels! Hotels now give guests the convenience and control to find rooms that fit their budget and desired amenities and reserve them with ease. Not only can users compare prices, they can also easily read customer feedback before they commit.
Additionally, mobile apps make it easy to adjust reservations if plans change. This added flexibility makes planning a vacation easier than ever before. Overall, hotel booking apps are providing a valuable resource for travelers today and will continue to improve our experiences in the future.
How Social Media Is Being Used By Hotels
Hotels are taking full advantage of the power of social media to promote their business and engage with potential guests. It's a great way for them to show off the amenities of their establishments, along with photos and beautiful visuals that instantly draw people in. Hotels rely on these channels to actively engage with customers by responding to feedback, sharing special promotions, highlighting successful customer reviews, and offering personalized assistance during the customer's stay. 
By utilizing different aspects of social media, hotels are able to stand out in a crowded marketplace and create relationships that can last for many years.
Virtual Reality To Give Guests a Preview Of Their Stay
Technology advancements have revolutionized the way hotels do business and how they interact with their customers. Virtual reality technology has enabled hotels to grant their guests an immersive preview of what it is like to stay at their hotel before they book. From a hotel perspective, this allows customers to actively get a feel for the destination and have confidence that they are purchasing the right experience. 
For potential guests, virtual reality presents a unique opportunity to explore the world in full 3D detail and identify which hotel offers the best match for their personal preferences. With revolutionary applications on the horizon, VR is showing no signs of slowing down in its ability to provide an interactive experience like no other before it.
Summarization
Technology has profoundly changed the hospitality industry and is having a significant impact on businesses. Tools such as online reservation systems, software that allow customers to check in at any time, and hotel apps to provide services such as room service have made customers more connected than ever before. Hotels can also efficiently manage and track their inventory through automated management systems that are tailored for individual businesses. 
Furthermore, mobile robots representing the hotels can be used to create an immersive experience for guests. Technology is helping hotels improve customer engagement and loyalty, while also providing hospitality workers with efficient and powerful tools to increase market share and help them progress in the rapidly changing hospitality industry. As technology makes it easier, faster, and more pleasurable for customers to interact with brands, hospitality businesses stand to benefit from these technological advances significantly.
No matter what the future of hospitality looks like, Phonesuite will be there to help you through it. We've been installing the latest in high-tech systems in hotels across the world for more than 25 years, and we can build the perfect hotel phone system for whatever your hotel needs may be. So if you're looking for a reliable partner to help you navigate the ever-changing landscape of hospitality, look no further than Phonesuite. We'll be with you every step of the way.