Hotel Management Effectiveness: Key Strategies for Success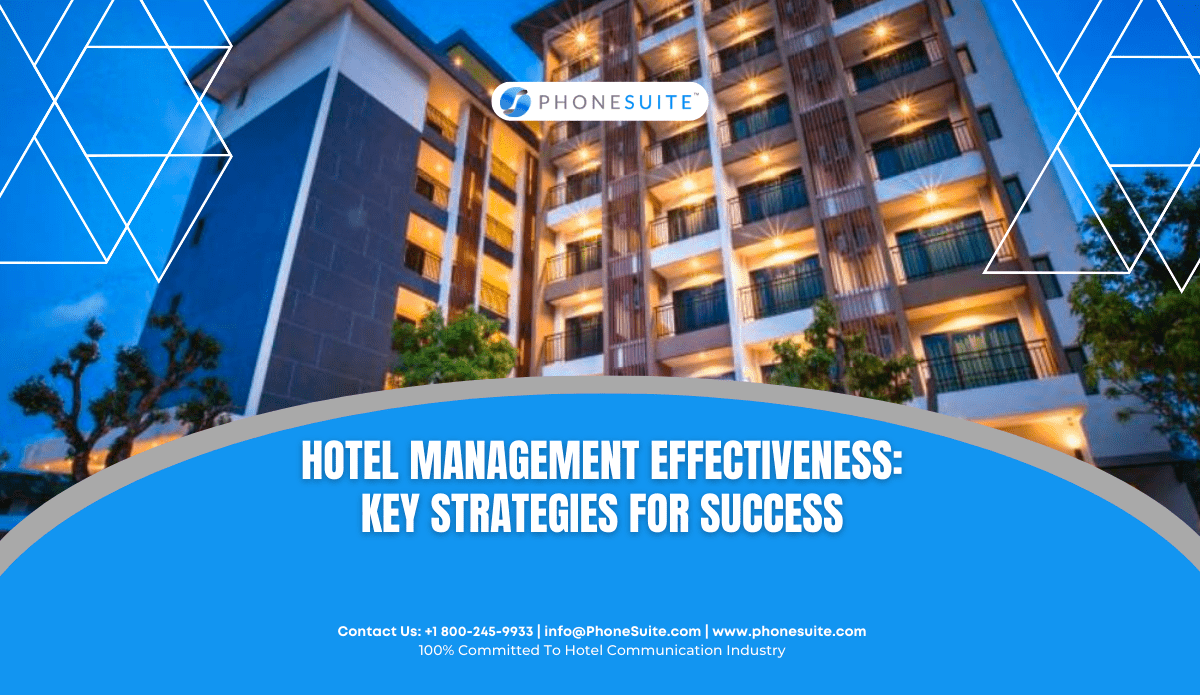 Hotel management is a complex task that requires effective leadership and management strategies. The success of a hotel depends largely on how well the management team runs the operations. To ensure that a hotel runs smoothly and effectively, several key elements must be in place, including clear lines of communication, regular employee training programs, up-to-date compliance audits, and effective employee feedback systems. In this article, we will discuss these elements in detail and how they can help to create a high-performance hotel.
Establish & Maintain Clear Lines Of Communication
Establishing and maintaining clear lines of communication between all departments benefits everyone in the organization. When departments share information with each other, it encourages cooperation, accuracy, quality control, collaboration, and faster decision-making processes. Clear lines of communication are essential for effective hotel management. 
This means that all employees must be able to communicate effectively with each other, and with guests. Communication can be improved by creating clear communication channels, such as regular staff meetings, emails, and inter-departmental communication. In addition, all employees should have access to the same information and be able to communicate effectively with guests, regardless of their department. 
Clear lines of communication also help reduce organizational friction and bottlenecking to ensure tasks are quickly completed without any roadblocks. Investing in practices that foster open communication is essential to long-term success and fostering a culture of learning within your organization.
Encourage Feedback From Employees & Guests
At our company, we understand the importance of engaging with employees and guests in order to identify areas for improvement. Encouraging feedback from employees and guests is another critical component of hotel management. Feedback provides management with the information they need to improve operations, solve problems, and make changes that will benefit everyone involved. 
Employees should be encouraged to provide feedback on their job performance, and guests should be given opportunities to provide feedback on their experience. This feedback should be collected regularly, analyzed, and used to make changes that will improve the overall guest experience. By encouraging feedback from everyone involved, we guarantee that our services remain up-to-date and tailored to the needs of our customers.
Create Standard Operating Procedures For All Departments
To ensure consistency and efficiency, it is important to create standard operating procedures (SOPs) for all departments in a hotel. SOPs provide clear guidelines and instructions for how tasks should be performed, making it easier for employees to complete their work and providing guests with a consistent and high-quality experience. SOPs should be regularly reviewed and updated to reflect changes in the hotel's operations and the latest industry best practices.
By taking the time to document and organize the best practices associated with certain processes, you can ensure that all future tasks are completed in a timely, efficient manner. Having access to identical guidelines across departments will not only save you time but open up collaboration opportunities within your company. 
Up-To-Date Employee Training Programs
Employee training programs are critical for hotel management effectiveness. Training programs should provide employees with the skills and knowledge they need to perform their jobs effectively and efficiently. This can include training on customer service, job-specific skills, and the latest industry trends. Training programs should be regularly updated to reflect changes in the hotel's operations and the latest industry best practices.
Investing in employee training programs is a great way to ensure that everyone working at your hotel is consistent with the policies and procedures put in place. Not only will it promote a better customer experience, but it ensures that each team member has the knowledge and training necessary to do their job properly. Guests will be more impressed with the level of professionalism across the board, and your employees will have a clear understanding of expectations. 
The investment in employee training ultimately leads to improved staff morale, better teamwork, and fewer mistakes – all of which makes for an unforgettable guest experience.
Conduct Regular Compliance Audits
Auditing is a crucial part of running an effective, efficient organization. Regular audits of all departments can help make sure that everything runs as expected and that both employees and customers are provided with the best service possible. A regular audit ensures that standards are implemented correctly and consistently, ensuring organizational compliance and results consistent with desired outcomes. 
Hotels must adhere to a wide range of regulations, from health and safety codes to employment laws. Regular compliance audits are essential to ensure that hotels are meeting all of the necessary regulations and standards. Audits should be conducted by independent auditors or internal auditors and should be comprehensive, covering all areas of the hotel's operations. The results of the audit should be used to make improvements that will help to ensure continued compliance.
Reward Employees For Exemplary Performance
Rewarding employees for exceptional performance is an integral part of creating a culture of excellence at work. Taking the time to recognize and celebrate successes, no matter how small, motivates employees to continue pushing themselves further and encourages them to strive for higher levels of accomplishment. Rewarding those who go above and beyond the expected level of performance also sets a benchmark for all the other employees to aim towards, thereby raising the overall standard of their work. 
It can be done with monetary rewards, public acknowledgments, or extra free time away from their duties – whatever works best for your specific workplace and culture. All in all, rewarding exemplary employee performance will help foster a much-needed spirit of excellence throughout your business.
By recognizing and rewarding employees who go above and beyond, hotels can create a positive work environment that encourages employees to continue performing at their best.
Bottom Line
In order to succeed in the hospitality industry, excellent customer service is paramount. Smart managers set high standards for their staff and create clear expectations of satisfying guests to cultivate loyalty and enhance profits. From utilizing automation that streamlines processes efficiently to enhancing the guest experience with personalized touches, hotels can maximize profitability when they focus on delivering exceptional service every time!
To stand out in the hospitality industry, managers should go above and beyond to provide quality service at an attractive price! Analyzing customer demographics can help organizations enhance relationships with customers by offering services tailored specifically for their needs. Striking a balance between excellent service and reasonable prices is essential to staying ahead of competitors.
By implementing these elements, hotels can create a high-performance environment that delivers a consistent and high-quality guest experience.
Connect With Professional Today!
Curious about how PhoneSuite's hospitality products and services can help transform your business? We offer a free assessment to see how we can help you. Our team of experts will examine your properties, guest needs, and priorities to design the perfect system for you. Get in touch with us today to learn more about our cost-effective solutions!