Elevate Your Customer Service: A Step-by-Step Guide to Improving Hotel Guests' Experiences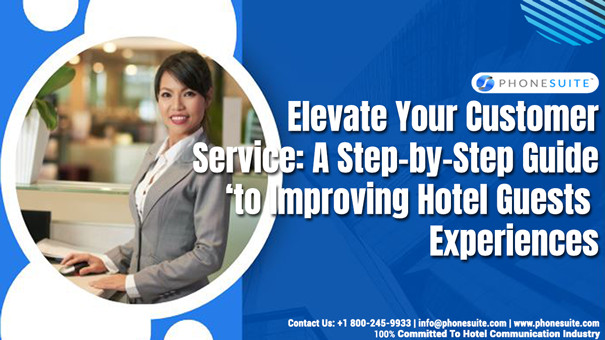 When it comes to marketing a hospitality business, providing impeccable customer service is the key to success – and there are several steps that hotel owners can take in order to ensure their guests have the best possible experience while they're staying with them. From taking proactive measures so that customers feel safe and secure during their visit, to creating ongoing changes across all departments in order to improve overall levels of guest satisfaction, it's essential for businesses in the hospitality industry to continuously adjust and better their protocols on how they serve customers. In this blog post, we will provide you with a step-by-step guide on how your hotel can elevate its customer service offerings – giving your guests excellent experiences that will keep them coming back time after time.
Why Is It Crucial To Improve The Hospitality Guest Satisfaction?
The importance of taking steps to improve the hotel guest experience cannot be overstated. With more and more people turning to online reviews before making a reservation, it's essential that businesses in the hospitality industry make sure they're providing excellent customer service so as to keep their overall ratings high. Studies have shown that potential guests are 40% more likely to book a hotel based on its online reputation, so it's crucial that owners make sure they're doing their best to ensure all of their guests leave feeling satisfied with their experience.
The Perfect Guide: Customer Satisfaction Journey
Awareness:
The customer journey begins with awareness. In order to create awareness, the company must first identify its target audience. Once the target audience is identified, the company must create targeted content that will reach and resonate with that audience.
Consideration:
Once the customer is aware of the company and its products, they will begin to consider making a purchase. The company must make it easy for customers to learn about its products and pricing. It must also provide a variety of purchase options, such as online and in-store.
Purchase:
Once the customer has decided to purchase a product, the company must make the buying process easy and convenient. This includes having a variety of payment options and fast shipping times.
Retention:
Once the customer has made a purchase, the company must work to keep them happy so that they remain a customer in the future. This includes offering great customer service, providing product updates, and offering loyalty programs.
Advocacy:
Finally, the company must work to create brand advocates who will promote its products to their friends and family. This can be done through social media campaigns, referral programs, and good old-fashioned word-of-mouth marketing.
How To Offer A Smooth Client Experience
Establish Customer Persona
Creating buyer personas is a great way to understand your customers and create content that appeals to them. By creating fictional representations of your ideal customers, you can get a better idea of what they want and need from your business. This will help you to create targeted content that resonates with them, increasing the chances that they will become customers.
There are a few different ways to create buyer personas. The most common method is to begin by surveying your current customers. This will give you some basic information about their demographics and what motivates them. You can then use this information to create fictional characters who represent your ideal customer.
Another way to create buyer personas is to use data from your website's analytics. This will give you information about the types of people who are already visiting your site. You can then use this data to create profiles of your ideal customer.
Once you have created your buyer personas, it's important to keep them in mind when creating content. Think about the things that appeal to them and the problems that they are trying to solve. Then, create content that addresses these issues. You can also use your buyer personas to determine which social media platforms are most likely to reach your target audience.
Analyze The Client Experience
The customer journey is the process that a customer goes through when interacting with a company. This can include anything from researching a product to making a purchase to leaving a review. By understanding the customer journey, companies can better tailor their marketing and products to meet the needs of their customers.
There are several steps in the customer journey, including:
Researching Products or Services 
– This step can include browsing online, reading reviews, and talking to friends and family.
Considering Options 
– In this step, customers compare different products or services and decide which one is best for them.
Making a Purchase 
– This step can involve clicking on a link, filling out a form, or calling a company.
Using the Product or Service 
– In this step, customers use the product or service and may have questions or need help.
Leaving Feedback 
– In this step, customers may leave feedback about their experience with the company either online or verbally.
Each of these steps is important, and companies should focus on all of them if they want to create a successful customer journey. By understanding the customer journey, companies can create a more streamlined experience that will keep customers coming back.
Ensure Comfort and Recognizing Needs
Convenience is key when it comes to customer service. By anticipating the needs of your customers and delivering what they need before they even ask, you can create an unbeatable level of convenience that will keep them coming back for more. Whether it's through providing easy-to-use online tools, quick and responsive customer service, or a wide selection of products and services, being convenient is a surefire way to improve customer loyalty and boost your bottom line.
At PhoneSuite, we pride ourselves on being the most convenient option for our customers. We offer a wide range of products and services, along with fast and responsive customer service, so that our customers can find everything they need all in one place. We also make it easy for our customers to do business with us online, with tools like our online chat system and self-service account management portal. With everything we offer, we aim to make life easier for our customers, and it's evident in the high levels of customer loyalty we enjoy.
If you're looking to improve your customer service and boost your bottom line, consider making convenience a top priority. By offering easy-to-use tools and providing quick and responsive service, you can create an unbeatable level of convenience that will keep your customers coming back for more.
Provide Personalization
When it comes to booking a hotel, many people are looking for something that is tailored specifically to their needs. This is where personalization comes in, as it can allow hotels to better cater to their guests. By taking into account things like interests and preferences, hotels can provide a more customized experience that is sure to please.
There are a number of ways that personalization can be used in the hotel industry. One popular approach is to create a profile for each guest, which can include information like their name, age, and interests. This data can then be used to choose the right room for them, recommend activities and restaurants, and more. Personalized services like these make guests feel special and valued, which can lead to increased loyalty and repeat business.
Another great way to use personalization is through marketing campaigns. Hotels can target guests with specific offers based on their past behavior or preferences. For example, if someone has stayed in a certain type of room or ordered a certain type of food, the hotel could send them an offer for a similar room or meal the next time they visit. This helps ensure that guests always feel like they're getting something new and exciting, which is sure to keep them coming back.
Overall, personalization is a great way for hotels to improve the customer experience. By taking into account individual preferences and needs, hotels can create a unique experience that meets each guest's unique needs. This not only makes guests happier but also encourages them to return in the future.
Communication Is One of the Key
When guests stay in a hotel, they expect to be able to communicate with hotel staff easily. Good communication between guests and staff is key to making sure everyone has a good stay. Guests may need help with directions, room service, or other issues during their stay. Hotel staff needs to be able to understand and respond to guests in a way that makes them feel comfortable and taken care of.
Guests can communicate with hotel staff in several ways. The most common way is by talking to them directly. Hotel staff is often available at the front desk or in the lobby. Guests can also call the hotel's main number and ask to be transferred to a specific department or person. Some hotels also have a chat feature on their website or app where guests can chat with a representative online.
No matter how guests choose to communicate with hotel staff, it's important that they feel heard and understood. Hotel staff should be polite and responsive and always do their best to help guests with their needs. By communicating effectively, both guests and hotel staff can have a more enjoyable stay.
Providing Trust and Having Seamless Brand
When a guest is looking for a place to stay, they want to know that they can trust the hotel industry. After all, this is where they will be spending their hard-earned money. They want to feel confident that the hotel is reputable and will provide them with a good experience.
One way that hotels can create trust in their branding is by making it seamless. This means that the branding across all channels should be consistent. From the website to the marketing materials to the uniforms of the employees, everything should look and feel like it belongs to the same company. This gives guests a sense of familiarity and makes them feel more comfortable trusting the hotel.
Another way that hotels can build trust is by being transparent about their policies and procedures. Guests want to know what to expect from their stay, and they don't want any surprises. Hotel websites should include information about things like check-in and checkout times, pet policies, Wi-Fi availability, and room rates. This helps guests plan for their trip and ensures that there are no surprises once they arrive at the hotel.
Overall, building trust in your branding is essential for success in the hotel industry. By creating a consistent brand image and being transparent with your policies, you can ensure that guests feel confident in choosing your hotel.
Participation and Engagement
The hotel industry is one that is constantly bustling with activity. From the front desk to the housekeeping staff, everyone is working hard to provide a great experience for guests. It's often easy to take this for granted, especially when things are running smoothly. However, it's important to take a step back and appreciate all the hard work that goes into making a hotel stay enjoyable.
One of the best ways to show appreciation is by engaging with staff members. Thank them for their help, ask them about their day, and generally make them feel appreciated. This can go a long way in making them feel appreciated and valued, which in turn will make them want to work harder to provide great service.
Another way to show appreciation is by thanking hotel staff on social media. Whether it's a simple tweet or a detailed post on Facebook or Instagram, always take the time to say thanks. This helps publicize the great work that hotel staff is doing, and it also lets other guests know that they can expect great service when they stay at that particular hotel.
Ultimately, it's important to remember that the hotel industry is made up of people – people who are working hard to provide great service and make your stay enjoyable. Take the time to show your appreciation, and you'll likely find that you have a better overall experience.
Talk to PhoneSuite Today!
It's important to provide your customers with a seamless experience that meets their needs at every touchpoint. By following PhoneSuite's advice, you can create buyer personas, analyze the customer journey, deliver convenience and anticipate needs, offer personalization, be communicative, make your branding seamless and provide trust, boost engagement and show appreciation. To build a thriving business, providing customers with an outstanding experience is critical. 
Leveraging our expertise in customer service solutions can help you make that happen! Connecting with PhoneSuite will give you the tools and resources to provide your clients better experiences-a key factor for boosting sales and fortifying loyalty. Why wait? Get started now on creating long lasting success!