Call Center Technology: The Benefits and Trends for 2023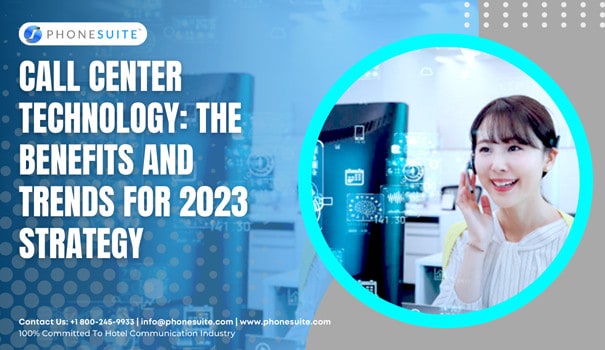 The hospitality industry has embraced technology in recent years, with many hotels utilizing call center technology to improve customer service and streamline operations. In today's connected world, it is essential for hotel marketers to understand the advantages of modern call center solutions, as well as current trends that are emerging in the sector. This blog post will discuss how hotels can benefit from utilizing advanced call center platforms and review the most relevant trends within this field. We'll cover everything that busy hotel marketers need to know including cost savings, potential pitfalls and necessary 2-way integrations.
If you manage a call center, you know that technology is constantly changing and evolving. Keeping up with the latest call center technology can be a challenge, but it's important to stay ahead of the curve to maintain efficient operations. In this blog post, we'll discuss what call center technology is, its benefits, and some of the latest trends for 2023. Stay up-to-date on the latest call center tech with this comprehensive guide!
What Is Call Center Technology?
Call center technology is an overarching term that encompasses all of the various digital and telecom tools used by call centers to provide customer service. This can include computer software, IVR (Interactive Voice Response) systems, Automatic Call Distributor systems, live chat, social media integration, call recording, and more. Collectively, these tools offer the ability to streamline communication with customers through a variety of methods while maintaining a high degree of accuracy. 
For any business offering customer service, having the necessary call center technology in place is key to providing an exceptional customer experience.
Benefits Of Call Center Technology
Call center technology is essential for businesses today, as it enables clear, efficient communication between employers and customers.
The benefits offered include increased customer service satisfaction levels, improved access to customer data, and the ability to create a prompt resolution of issues. Automated response options help reduce wait times so customers can receive the support they need in a timely manner. In addition, call centers facilitate easy scalability of activities according to shifting customer demand.
By applying the correct technology in a call center environment, businesses gain invaluable insights into their customers' preferences, feedback, and behaviors that are integral for success and growth today.
Current Trends In Call Center Technology
One of the major trends in call center technology is the rapid advancement of artificial intelligence and natural language processing. AI-driven tools are being utilized by many businesses to streamline and improve their customer service efforts. Natural language processing can be used to accurately recognize speech, detect emotion and provide customized responses in real-time. 
Additionally, Cloud technologies are becoming increasingly popular for businesses in the call center industry due to access to vast amounts of data storage, scalability, cost savings, enhanced customer experience, and increased efficiency. Finally, remote working trends have been gaining immense popularity in recent times with many centers adopting remote working capabilities for their staff members so that operations can continue uninterrupted even during times of crisis. All of these trends suggest that today's call center business is becoming increasingly efficient thanks to technological advancements.
Key Modern Call Center Technologies
Today, there are a number of technologies driving the modern call center. Voice-over-Internet Protocol (VoIP) allows for calls to be placed and received over the internet, usually with better clarity and reduced costs. Customer Relationship Management (CRM) software helps track customer data so agents can provide personalized service. Screen pop allows pertinent customer information to automatically appear on agents' screens when a call is received. 
Skills-based routing assigns incoming calls to an agent best equipped to handle them, while Interactive Voice Response (IVR) enables callers to find answers using only their voice. Modern call centers also use tools like call queuing, queue callback, call recording, analytics, conversational AI, and voicemail-to-email delivery for improved efficiency. Predictive dialers come in handy for larger operations that need automated calling capabilities from multiple lines simultaneously. 
The combination of these technologies helps modern call centers deliver more efficient service, higher quality experiences, and better outcomes overall for customers.
VoIP
VoIP (Voice Over Internet Protocol) is an increasingly popular business communication tool, with the potential to revolutionize how we make and receive calls. In a call center setting, VoIP offers the opportunity to reduce costs, improve audio quality and offer a more efficient customer experience compared to traditional landlines. By eliminating hardware requirements and offering multiple different capabilities from one platform, VoIP in call center technology allows for smoother team collaboration on customer support issues. 
This can allow for faster resolution times and higher customer satisfaction scores. Due to its versatility and cost-saving features, VoIP in call center technology has been growing steadily in popularity over recent years, allowing for many businesses to benefit from upgraded customer experience capabilities.
Customer Relationship Management (CRM)
Customer Relationship Management (CRM) plays a key role in the success of any call center. Through automated customer service, tracking customer history and interactions, and being able to coordinate with other departments, CRM is an essential tool that functions as a strong bridge between customer service operations and customer satisfaction. Not only do CRMs help build relationships between customers and companies by allowing the customer support staff to be more productive, but they also provide valuable insight into customer interaction through analytics which can then be used to refine customer service strategies for future success. 
With the importance of CRM in call center technology now more recognized than ever before, investing in this resource promises a substantial return that will improve your bottom line.
Screen Pop
In today's competitive customer service landscape, investing in the right call center technology can make all the difference. Screen pop is an important part of that equation. By automatically popping up relevant customer information on the agent's screen right when they connect with a caller, it eliminates the need to manually lookup data. 
This not only saves agents precious time they would otherwise spend manually typing in searches and increases first call resolution rate; but, it also helps provide a confident, smooth customer experience as queries get answered faster and more accurately. Along with improved customer satisfaction ratings and reduced average handle time, this efficient use of technology will undoubtedly save your organization money and establish better relationships with its customers.
Skills-Based Call Routing
Skills-based call routing has become an increasingly essential part of call center technology. By using customer data to route calls to the most appropriate agent, organizations can ensure they are providing customers with the highest level of service possible. This type of call routing also eliminates long wait times for customers as the right representative is quickly connected on the line. 
Additionally, by optimizing agent workloads with skill-based routing, companies can save time and money as less experienced agents aren't overburdened with complex calls that require more expertise. Ultimately, skills-based call routing increases efficiency and quality in today's contact centers, creating a better customer experience and making teams more productive all at once.
Interactive voice response (IVR)
Interactive Voice Response (IVR) is an integral part of modern call center technology. By using IVR, businesses can provide their customers with easy access to self-service options without the need for live agents. This helps businesses create a more efficient and cost-effective contact center experience that meets customer needs. 
In addition, customers are able to receive personalized responses comprised of highly targeted content in real time. This reduces the amount of time they have to wait to speak with someone, while also improving customer satisfaction levels. All in all, IVR is an effective way for businesses to save time and money on their customer service operations–while providing customers with a smooth and satisfactory experience.
Call Queuing
Call queuing is a powerful tool that is used in call center technology to maximize customer service efficiency. By queuing incoming calls, customers are able to wait without having their time wasted by being placed on hold or losing connection to the call center. This ensures a better experience for both customers and employees, as well as provides a secure flow between the two. 
Queuing calls can also be beneficial for businesses, as it allows them to monitor inbound call trends so that they can adjust staffing levels accordingly. Without call queuing, the importance of providing quality customer service would diminish significantly.
Queue Callback
Queue callback has become an increasingly important tool in modern call center technology. It is a feature that allows callers to request to be called back instead of waiting on hold. It offers a lengthier and more customized customer service experience with little effort on the operator's side. 
Along with providing customers with higher levels of control and satisfaction, queue callback also reduces congestion in the call center as agents can better prioritize their incoming calls and allocate resources efficiently depending on the importance of each call. Moving away from traditional waiting queues, queue callback is ultimately a revolutionized way for customers to engage with businesses through telephonic communication.
Call Recording
Call recording is a valuable tool for modern call center technology, as it offers tangible benefits like training employees in customer care and creating more accurate analytics. Furthermore, call recordings to provide an effective means of monitoring staff performance and dispute resolution. Not only do they give supervisors the chance to review calls while they are registered and can be held accountable, but they also help to clear up disputes regarding agreements that have been made between customer service representatives and clients. 
Additionally, audio recordings may be used to research various customer issues or any other matters that must be resolved. Overall, call recording plays an important role in improving the efficiency of business operations as well as enhancing customer satisfaction.
Call Analytics
Call analytics is increasingly becoming a key feature of modern call center technology, offering insights into customer interactions. It allows businesses to gather data on customer calls and perform real-time analysis in order to better serve customer needs and maximize customer satisfaction. By using call analytics, businesses can measure everything from wait times to customer sentiment and agent performance. 
With this data, companies can improve their customer service strategies and ensure that the experience for customers is positive and efficient. By leveraging call analytics, companies gain more accurate insights into customer needs and behaviors which helps them create more effective strategies that truly meet the needs of customers.
Conversational AI
Conversational AI is gaining importance in the world of call center technology. It enables seamless communication between customers/users and automated systems to provide improved customer experience, streamline customer service operations, help meet customer expectations, and reduce operational costs. Companies are using Conversational AI to enhance customer support using virtual agents equipped with natural language processing (NLP) and machine learning (ML). 
These virtual assistants are able to understand user questions quickly and provide overall better customer satisfaction. By utilizing such conversational AI technologies, companies can benefit from faster resolution times thus promoting a better customer experience overall.
Voicemail to Email
Call center technology has advanced dramatically over the past few years, and one piece of technology that has had a major influence is Voicemail to email. This revolutionary feature allows for calls in a call center to be handled both quickly and efficiently by allowing customers to leave messages on an automated system which are then automatically transcribed and sent directly to designated recipients as an email. Not only does this provide more convenience for customers by allowing them to record a message when it is most convenient for them instead of having to wait within a call queue, but it also allows users to quickly store important follow-up information without taking up time they could use while assisting other customers. 
Voicemail to email is undoubtedly becoming one of the most important pieces of call center technology and its importance will undoubtedly continue far into the future.
Predictive Dialer
Predictive dialers are playing a major role in the advancement of call center technology. They are incredibly useful for companies as they can dramatically streamline the process of making outbound calls. In addition to basic capabilities, such as automated dialing and detection of answering machines, predictive dialers are designed to anticipate peak calling times and adjust the rate of calls made accordingly. 
This helps create an efficient workflow and prevent resources from being wasted on the excessive lag time between calls. Furthermore, they can recognize human voices on the other end of phone conversations, eliminate invalid numbers, and provide superior quality customer service. Thus, the major importance of predictive dialers in call center technology is that they can help improve efficiency by providing access to critical data and simplifying communication processes.
What Are You Waiting For?
Upgrading your call center system is a big decision, but one that comes with a lot of benefits. A modern digital system will be more efficient, give you better insights into your customer interactions, and improve your caller experience. If you're ready to make the switch, talk to Phonesuite today. We can explain all of your options, walk you through the installation process, and give you a detailed quote for our services. So what are you waiting for? Give us a call today and see how we can help take your call center to the next level!