Switch to VoIP – The Benefits of Making the Move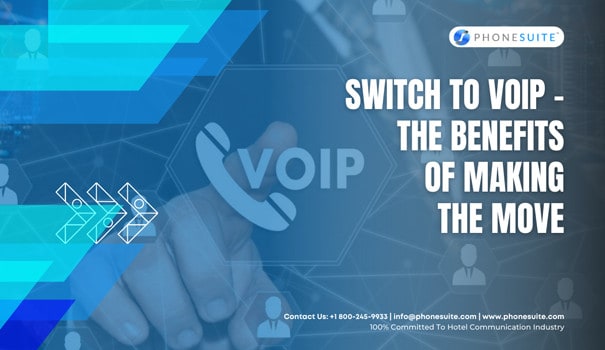 Are you still using an outdated landline system for your hotels? You may not realize it, but making the switch to VoIP can provide numerous operational and financial benefits. In this blog post, we'll discuss why transitioning to VoIP is essential for keeping up with digital innovation and reducing costs in the hospitality industry. From greater scalability that makes adding new locations easy to better customer service capabilities, discover how moving away from traditional phone lines could help you revolutionize your hotel business.
Organizations and companies prefer VoIP phone service over traditional phone lines because it provides far more benefits than simply boosting company communications. Here are just a few of the numerous ways VoIP can help businesses.
Cost Savings
VoIP is a cost-effective method of establishing a company communications system. VoIP services could rely on a direct IP connection to your phone service provider, your existing internet connection, or a combination of the two. As a result, it virtually eliminates the cost of internal calls in your organization and significantly reduces the cost of external and international business calls, saving a considerable amount of money on traditional phone lines, installation, and ongoing maintenance.

On-premises and cloud-based VoIP systems are both cost-effective but do have some differences in terms of cost. Though you need to pay fully upfront for an op-premises system, it protects you from the risk of fee increases and means lower monthly costs after expenses are covered. As for the cloud-based hosted VoIP services, you usually go with an OpEx model with more affordable monthly or annual fees and low initial equipment costs.
If your voice and data solutions are currently separate, you can save money by combining the two under one provider. In addition to the cost savings, you'll also be able to consolidate both internet service and telephony support.
Easy to Install
In comparison to traditional phone systems, the installation and configuration of VoIP systems may be quite simple. Office phones have traditionally required actual lines to receive phone service when using a landline system. VoIP phone systems reduce the requirement for real phone lines to be installed. Simply connect IP phones to the corporate network using Ethernet connections.
Even better, if you require your IT personnel to focus on other essential and revenue-generating initiatives rather than phone system management, hosted phone services delegate the job to the service provider and eliminate the need to worry about network concerns. It would also benefit small enterprises and start-ups that lack technological skills or resources.
Clear Voice Quality
When Voice over IP was originally offered, the call quality was deplorable. Those days are now gone, thanks to advances in broadband and Voice over Internet Protocol technology. The most common misperception concerning VoIP nowadays is "bad call quality."
As long as you have a fast and stable Internet connection, you can relax. To ensure HD sound quality, most VoIP services supply a plethora of different protocols and codecs. VoIP speech quality can be as good as or better than landline conversations with a solid solution and careful implementation. It's impossible to discern the difference.
Mobility & Geographical Flexibility
Businesses can use VoIP to extend their communications system to remote offices and mobile workers using SIP-enabled devices. For remote workers, the office is wherever they make it as long as they have an Internet connection.
A multi-site VoIP solution not only keeps all dispersed branches connected seamlessly, but it also lowers rising inter-office call costs. Softphones allow employees to make their office extensions mobile, with a variety of call handling tools at their disposal. Furthermore, cloud phone systems make it simple to unite geographically distributed businesses under a single phone system, and IT administrators may easily administer it from any place.
Scalability
Scalability is one of the most valuable properties for organizations since it relates to a system's ability to handle an increasing amount of workload, typically by adding resources to the system, without impacting its overall performance or efficiency.
VoIP is a scalable solution that can expand with your company, particularly cloud-based VoIP services, which provide greater flexibility for enterprises experiencing staff growth or reduction. Increases and decreases in phone extensions may be done instantly, and businesses simply pay for what they use, without the need for additional gear or new dedicated lines. All of this can be done in real time. If you run a seasonal business with fluctuating communication needs or are experiencing rapid growth, a hosted model may be ideal for you.
Abundance of Features
VoIP services provide a variety of capabilities that are either not supported by traditional phone systems or are only available for a price. These characteristics are more than just "bonus features." With the entire range of built-in services, many organizations have found it simple to employ VoIP and become more competitive. Some capabilities, such as the ability to connect with emergency services while using internet VoIP, may assist businesses in meeting critical safety and security requirements.
The following are some must-have VoIP capabilities that can improve the efficiency of your company communications:
Basic Call Features
Call Forwarding
Emergency Number
Queue
Call Routing
DND (Do not Disturb)
Ring Group
Caller ID
Speed Dial
Music On Hold
Advanced Call Features
Voicemail to Email
Unified Communications
Wake up Call
Conference
Auto Provisioning
Blacklist/Whitlist
Mobility Extension
Redundancy(failover)
Firewall
When the called party is unavailable, Call Forwarding allows incoming calls to be routed to another chosen destination, such as a mobile phone number or other phone numbers. You can also create separate rules for different instances. For example, while you are busy, automatically divert phone calls to another extension, ring your mobile phone when no one answers your desk phone, and ask callers to leave voice messages when you are on vacation. Salespeople and field personnel, in particular, no longer need to be concerned about being away from their desks.
IVR
IVR enables even small firms to provide 24-hour customer service without the use of costly human employees. When consumers call, pre-recorded greetings lead them to the most appropriate destination with the least amount of waiting time. You can use IVR to automate customer service, deliver prompt and satisfying answers, make a positive impression on your clients, and develop a professional corporate image.
Include a collection of extensions in a ring group so that when a call comes in, all accessible extensions will ring at the same time or sequentially, depending on the ringing techniques you configure. It is quite handy for successfully sharing and distributing calls among staff in specific departments. As a result, your team's overall productivity will grow, and the fastest response to customer calls is ensured.
Allowing an incoming call to queue up while waiting for an available agent is a wise decision. Instead of being put on hold, going to voicemail, or hearing a busy tone, the consumer is informed that there is presently no available agent to answer the call and that he or she is queueing. It lowers the frequency of missed calls and the negative impact of busy signals on the customer experience. You can even provide different service levels for distinct customer groups by segmenting agents into multiple queues.
Phone calls may be placed on hold at times, such as when you transfer a call to another number or when individuals engage in a conference call. Nobody hates awkward silences, so simply add some audio files and modify the on-hold music to pleasure your customers and boost your corporate image.
VoIP phone systems can be configured to identify and record every phone call made over the system, including inbound and outbound calls. Call recordings are typically used by businesses as a training or coaching tool, to help resolve disputes, for review and confirmation, to ensure compliance with their regulations, and to track whether or not customers are satisfied. VoIP technology simplifies everything.
Contact Us Today!
Ready to experience the future of hotel phone systems? Find out why Phonesuite is quickly becoming the go-to for countless hotels. Our team provides an affordable, modern VoIP solution tailored specifically for you and your property's needs – no cookie cutter solutions here! Thinking about upgrading but unsure how much it'll cost or what kind of installation process you're looking at? Get in touch with us today to discover just how easy our system can be implemented into your existing infrastructure.
Switching to VoIP (Voice over Internet Protocol) applications has been significant in recent years. VoIP allows users to make phone calls over the internet, which has greatly reduced the cost of communication and has made it possible for people to communicate from anywhere in the world. VoIP applications have also introduced new features like video conferencing, screen sharing, and instant messaging, which have revolutionized the way people collaborate and communicate in both personal and business contexts. However, the increased usage of VoIP applications has also created new challenges, such as cybersecurity threats, quality of service issues, and regulatory compliance requirements, that need to be addressed to ensure the continued growth and success of this technology.
The UK's analogue Public Switched Telephone Network (PSTN) is being replaced with a fully digital network by 2025. This transition is already underway and will continue until the complete shut off of the PSTN will move to a fully digital network that operates using voice over internet protocol technology (VoIP) that operates over a fibre-based service.
If you're interested in seeing how Phonesuite Voiceware can help your hotel business, don't hesitate to contact us today!
Curious about the cost or installation process? Get in touch today.