Phonesuite to Showcase Innovative Voiceware Browser-Based Console at HITEC 2017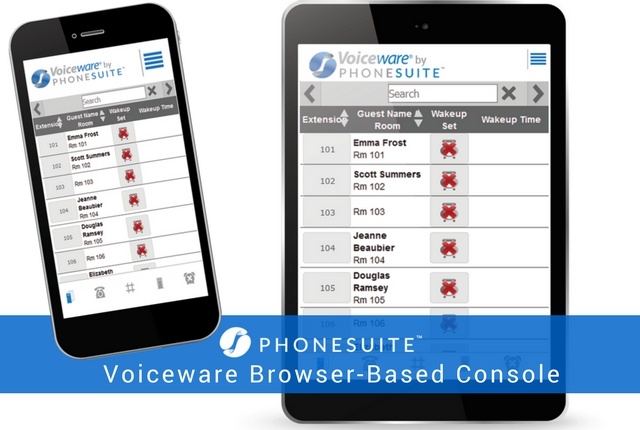 Unique Hotel Communication Interface Untethers Staff to Optimize Efficiency and Guest Communications
(Broomfield, Colorado) – June 22, 2017 – Phonesuite, a leading provider of communications solutions for the hotel industry for more than 25 years, will feature demos of its groundbreaking Voiceware Browser-Based Console at HITEC 2017 booth #1319. Loaded onto any tablet or other device with an internet browser, the powerful interface allows staff the freedom to answer calls and handle guest-related communication requests from anywhere on or off property, increasing efficiency while delivering superior guest service.
No longer tied to a bulky PBX console, staff members have the freedom to access increased functionality and an intuitive, easy-to-use interface by leveraging any PC, tablet, or smartphone. Using a Bluetooth headset and a free downloadable softphone app with Wi-Fi access creates an "on-the-go" hotel communication solution available anywhere throughout the hotel. Elevated functionality includes the ability to find guests or staff quickly by name and then call or transfer with one click, a pop-up guest information screen that displays key information such as name, native language, VIP status, group affiliation and more, and a robust wake-up activity log. The unprecedented access to full-function communications anywhere, anytime gives users the flexibility to respond to operational matters while continuing to prioritize guest relations.
Phonesuite CEO Frank Melville stated, "Our Voiceware Browser-Based Console represents an important revolution in the hospitality industry–one that allows hotels to move toward seamless communications along with greater efficiency and productivity. This innovation has been a winner for early adopters, because it literally frees hotel staff from the restrictions of a desk and empowers them to elevate guest services to the next level – all included at no extra cost from Phonesuite. The Voiceware Browser-Based Console will be just one of the suite of advanced products we'll be highlighting at our HITEC booth #1319, so we hope all attendees will stop by, get a demo and learn more about taking hotel communications to the next level."
About Phonesuite
Phonesuite is a single-sourced, hospitality communication solution for hotel managers and owners who need a reliable, simple-to-implement telephony platform that supports both SIP and analog phones. For over 25 years, PhoneSuite has been the proven choice for modern, open-architected integrated hotel communications for over 5,500 hotel installations. Our products, combined with our nationwide dealer support and engineering expertise, create reliable communication solutions that meet or exceed all hotel requirements. In addition to our local and regional reseller channel, our turnkey solution is also now available factory direct.