Phonesuite Integrates with Roxy Voice-Activated Assistant to Streamline In-Room Technology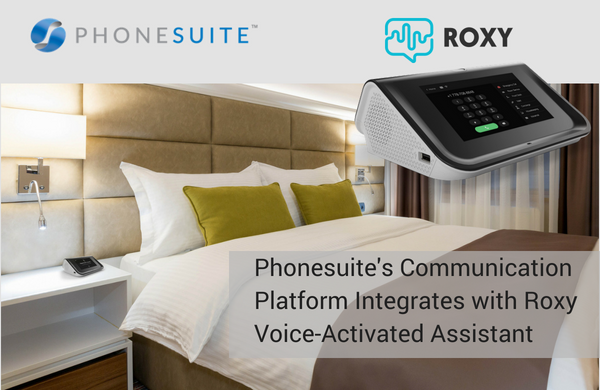 In-room speech-enabled device elevates the guest experience and increases hotel efficiencies
(Broomfield, Colorado) – May 17, 2018 – Phonesuite, (www.phonesuite.com) a leading provider of hotel voice technology solutions, announces the integration of its hotel PBX platform with Roxy (www.roxydevice.com), the speech-enabled device designed specifically for hospitality that provides fully customizable in-room concierge services. This partnership is one of the first to combine a virtual assistant and a PBX system, enabling hotels to streamline their in-room devices and make voice-activated calls directly through the device.
The integration of Roxy with Phonesuite's PBX platform stems from a wealth of statistics and research showing the rise of smart speakers in consumers' lives. The Smart Audio Report, which is based on data from NPR and Edison Research, reports that around 39 million U.S. adults own a smart speaker and that the adoption rate of such speakers over the last three years is now outpacing that of smartphones and tablets. Further supporting the desire for expanded functionality, 31 percent of smart speaker owners are asking their virtual assistants to control other devices. With this data in mind, Phonesuite completed the integration of its PBX with Roxy, demonstrating a commitment to understanding the preferences of hotel guests and delivering technologies that enhance their experience and exceed their expectations.
"Integrating with Roxy puts us at the forefront of bringing voice-activated services solutions to hotel guests. Providing a communications ecosystem compatible with disruptive guest interaction technologies is one of the ways to deliver on our commitment to create a true next-generation communication platform and elevate the guest experience. Roxy has given us a leap forward in that direction," said Phonesuite President Frank Melville.
"By integrating Roxy's intelligent, hotel-specific AI assistant with Phonesuite's PBX offerings, hotels are now able to up their game in guest satisfaction with full access to phone functionality and the ability to get guests the answers and items they need quicker and easier than ever," stated Cam Urban, CEO of Roxy.
Roxy provides an easy-to-use web portal that enables hotels to develop their own custom personas representing their brand, information and services. Phone functionality can be added through a software update.
"The Phonesuite integration with Roxy is huge for us," writes Nick Pearson, Assistant General Manager of Jupiter NEXT, a hotel in Portland, Oregon. "Using Roxy devices in lieu of legacy phones has saved us thousands, and reduced clutter in our rooms all while delivering a more robust guest experience."
The Phonesuite PBX integration with Roxy is available now for hotels. Phone suite will demo the Roxy device in Booth #2101 at the upcoming HITEC conference in Houston, June 18-21.
About Phonesuite
Phonesuite is a single-sourced, hospitality communication solution for hotel managers and owners who need a reliable, simple-to-implement telephony platform that supports both SIP and analog phones. For over 25 years, Phonesuite has been the proven choice for modern, open-architected integrated hotel communications for over 5,500 hotel installations. Our products, combined with our nationwide dealer support and engineering expertise, create reliable communication solutions that meet or exceed all hotel requirements. In addition to our local and regional reseller channel, our turnkey solution is also now available factory direct.
###