Phonesuite Acquires Asteria Solutions Group and Adds Full Service ACD (Automated Call Distribution) to its Voiceware Platform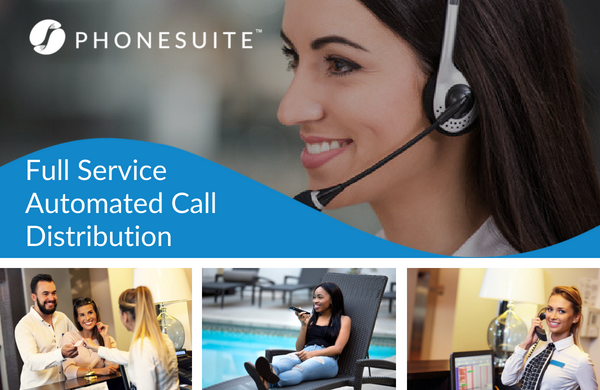 Phonesuite delivers on the hotel industry's demand for single guest-facing services by implementing Exceptional Service ACD into its existing Voiceware platform 
(Broomfield, Colorado) – September 12, 2018 – Phonesuite, (www.phonesuite.com) a leading provider of hotel voice technology solutions, announced that it has further expanded its Voiceware platform to meet the needs of today's hotel customers through its acquisition of Asteria Solutions Group, a provider of voice communication and call center solutions to leading companies including Trip Advisor. The acquisition will enable Phonesuite to offer hotels single guest-facing call center functionality through its existing platform with highly trained agents equipped to handle a myriad of guest requests from a central source. By offering full-service ACD (Automated Call Distribution), hotels can streamline their call center operations and significantly decrease costs while enhancing the level of service they provide to their guests.
Listening to customers and responding to their changing needs is a hallmark of Phonesuite. While the company has had a longstanding relationship with Asteria, the integration of ACD into its platform arose from a specific request it received from a major hotel chain seeking a smarter, more streamlined call center solution. To address the needs of this hotel and other major chains, Phonesuite expanded its Voiceware with ACD, giving hotels the ability to place a real call center agent inside the hotel. With full-service ACD as a solution, hotels gain the ability to consolidate operator, reservations, front desk, concierge, room service, spa reservations, and other services into an efficient and reliable single call center.
Phonesuite gave select sneak-preview demonstrations of its updated platform featuring Exceptional Service ACD during the recent HITEC conference held at the George R. Brown Convention Center in Houston, TX, June 18-21. Exceptional Service ACD is automatically available to Managed Voice customers through Phonesuite's recent release of its Voiceware software update. Non-managed Voiceware customers can purchase the upgrade.
"We know our hotel customers are always on the lookout for technology solutions that help them operate more efficiently while serving guests better," says Frank Melville, Phonesuite President. "That's why we're so excited about the acquisition of our longtime sister-company Asteria Solutions Group and the adaptation of Exceptional Service ACD into the Phonesuite Voiceware platform. By consolidating all guest-facing services into a single call center, hotels can significantly reduce operational costs while leveraging the expanded Voiceware technology to be even more responsive to their guests' specific requests and needs." 
About Phonesuite
Phonesuite is a single-sourced, hospitality communication solution for hotel managers and owners who need a reliable, simple-to-implement telephony platform that supports both SIP and analog phones. For over 25 years, Phonesuite has been the proven choice for modern, open-architected integrated hotel communications for over 5,500 hotel installations. Our products, combined with our nationwide dealer support and engineering expertise, create reliable communication solutions that meet or exceed all hotel requirements. In addition to our local and regional reseller channel, our turnkey solution is also now available to factories direct to national groups.