How Your Hotel Can Properly Utilize Social Media Platforms
Not too long ago, we discussed the importance of your hotel having a website to call its own. We're really hoping that you heeded our advice because we have something else that's just as important to discuss – social media!
When you think of social media, you might just think of cat videos and funny memes, but the truth is that social media is helping businesses grow and expand every single day. To help you take advantage of this phenomenon, we've compiled some of our favorite ways that your hotel can properly utilize social media platforms:
Create Profiles on Multiple Platforms

While it's important that you don't spread yourself too thin, you definitely want to utilize at least two or three social media platforms for your hotel. There are a ton to choose from – Facebook, Twitter, Snapchat, Instagram, etc. – so we suggest that you try out a few and see how they work before trying others.
Past Articles from Your Blog

Every hotel should have a blog where you discuss everything from the area's local nightlife to travel tips for your guests. This is something that's easy to maintain and a great way to connect and interact with travelers. After every blog has been written, wait a day or two and post about it on social media platforms such as Twitter and Facebook.
Use Visuals to Entice Guests

Human beings are very visual creatures, and that sentiment is truer today than it probably ever has been. That's because the internet provides beautiful images everywhere you look. By providing visuals of your hotel and the surrounding area to your guests on social media, you can show them just how awesome it would be to stay in one of your rooms.
Offer Specials Where They Mention Your Profile

Social media is a fantastic way to provide special discounts, upgrades, or unique extras to your guests. Post about different offerings on your social media accounts and tell them that if they mention your profile when they check in, they automatically get the freebie. If you really want to have some fun with it, you can even include a secret word for them to say. Just don't be a stickler if they happen to forget.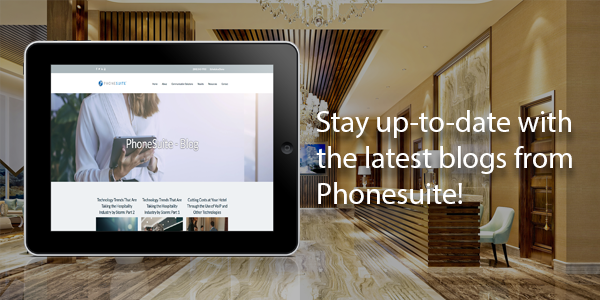 Create Contests for Guests

In addition to the special offers, you can create contests for your guests that will result in discounts and other such items. You can do things like ask them to post a funny picture, come up with a weekly tagline for your hotel, or answer a series of trivia questions with a winner chosen from everyone who gets all the questions correct.
Interact Whenever Possible

As you're already aware, social media allows you to interact with people on an instantaneous basis. It is common for guests to leave comments about your hotel or about their experience, or even ask questions related to an upcoming trip. Whenever possible, respond to these comments. This will make people feel important and endear them to your hotel, even if they're not the ones you're interacting with.
Answer Complaints ASAP

It is a common practice for customers to use social media, especially Facebook, as a way to post complaints about a business. While this is something that no business likes to think about, the trick is addressing any complaints as soon as possible and in a polite, calm manner. Getting upset or indignant will not reflect well on your hotel.
Technology like websites and social media I'll help with your hotel room. For communication purposes, Voice over Internet protocol technology offers the very best that you can provide for your guests and employees. Reach out to the professionals at phone suite and we'll tell you how to get started.