How VoIP Can Help Your Hotel Stay at the Cutting Edge of Competitiveness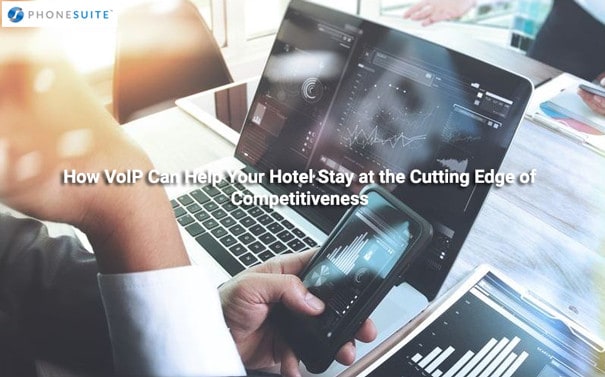 As the hospitality industry increasingly evolves and competition among resorts, hotels, inns and Airbnb rentals continues to surge, hotel marketers must become experts in employing leading-edge products and solutions. Whether you're looking to revamp your
booking system
or need to invest in quality furniture for your lobby, understanding the newest innovative products on the market can make all the difference when it comes time to acquire new supplies or during renovations. In this blog post we will discuss some of the most inventive products that are currently shaping up a fresh future for hospitality businesses everywhere.
VoIP allows you to make calls using a broadband Internet connection instead of a regular (or analog) phone line. VoIP services convert your voice into a digital signal that travels over the Internet. If you are calling a regular phone number, the signal is converted to an analog signal before it reaches the destination.
It can allow you to make a call directly from a computer, a VoIP phone, or other data-driven devices. It is also known as IP telephony, Internet telephony, voice over broadband (VoBB), broadband telephony, and digital phone service.
Integrating VoIP with Hotel Management Systems
Integrating VoIP with hotel management systems can greatly improve the efficiency and productivity of a hotel's operations. With integration, hotel staff can easily manage guest requests and room bookings, as well as track and analyze call data. This integration also allows for streamlined communication between staff, which can lead to faster resolution of issues and improved guest satisfaction. Additionally, integrating VoIP with hotel management systems can allow for automated call routing and tracking, freeing up staff to focus on other tasks and providing a more personalized guest experience.
How VoIP Works
VoIP converts your voice into a digital signal that travels over the Internet. VoIP can allow you to make a call directly from a computer, VoIP phone, or other data-driven devices. VoIP is also known as IP telephony, Internet telephony, voice over broadband (VoBB), broadband telephony, and digital phone service.
VoIP works by taking your analog voice signal and converting it into a digital signal that can be transmitted over the Internet. The VoIP technology uses what is known as packet-switched voice transmission to send your call information in small pieces, or packets, over the Internet.
The Difference Between VoIP and Landline Phones?
VoIP is the modern way to make and receive calls, harnessing your existing Internet connection for convenience instead of relying on copper wires or fiber optic cables like traditional landlines. Not only does it tend to be cheaper than in-house phone lines, but VoIP also provides a host of exciting features that go above what's offered with standard calling services – including VoIP-to-VoIP communication options as well as versatile compatibility across fax machines, mobiles phones, and even other landline networks.
The Pros and Cons of VoIP
VoIP promises to revolutionize how we communicate with big savings and more features, but it's important you understand what the technology can and cannot do before taking advantage of its potential. Knowing about VoIP's advantages – like lower costs – as well as its disadvantages will help ensure smooth transitions from traditional phone service into a whole new world of communication possibilities!
Some of the advantages of VoIP include:
– Lower cost: VoIP service is typically less expensive than landline service because it uses your existing Internet connection instead of requiring a separate phone line.
– More features: VoIP offers more features than landline service, including VoIP-to-VoIP calling, VoIP-to-landline calls, VoIP-to-mobile calls, and VoIP-to-fax.
– VoIP calls can be made from anywhere: VoIP calls can be made from a VoIP phone, computer, or other data-driven devices. You can make VoIP calls from anywhere that have an Internet connection.
– VoIP is scalable: VoIP is a scalable technology, so it can be easily expanded to accommodate your growing business.
VoIP Protocols and Standards
VoIP technology is made possible by the use of a variety of standards and protocols, such as Session Initiation Protocol (SIP). SIP acts like an air traffic controller for VoIP calls, making sure that every call has all it needs to be established quickly, stay connected reliably during conversations, then end seamlessly.
Voice-over IP (VoIP) is an increasingly common way to make audio and video calls over a computer network. To ensure seamless communication between different manufacturers' systems, several standards have been established such as H.323 for local area networks (LANs) and the Session Initiation Protocol (SIP). These protocols use specialized transport mechanisms like Real-time Transport Protocol (RTP), Real-Time Control Protocol(RTCP), and others to guarantee top quality VoIP call performance in any situation.
Call Quality
Enjoy crystal-clear VoIP calls without any quality deterioration thanks to fast broadband and compatible hardware. Poor sound could be caused by sluggish internet, or mismatched equipment that can't keep up with your provider's service. Maximize the potential of every call for better audio experiences through speedy connections combined with perfectly fitting components!
To make sure your VoIP calls are crystal clear, it's important to use the right equipment and internet connection. High-speed broadband will ensure call quality is at its finest – any lower speed may result in choppy, distorted or delayed audio that can greatly impact conversation flow. Investing in compatible hardware also adds another layer of protection for optimal conversations every time!
Ease of Use
VoIP is generally very easy to use. VoIP services typically come with an easy-to-use control panel that makes it simple to manage VoIP call settings and features. VoIP calls can also be made using a regular phone connected to a VoIP adapter, and many VoIP services allow VoIP calls to be made from a regular phone without the need for a VoIP adapter.
Remote Connectivity
VoIP calls can be made from anywhere that has an Internet connection. And, VoIP calls made to a landline number will typically sound the same as regular landline calls, while VoIP calls made to a mobile number may sound slightly different due to the different ways VoIP and mobile networks handle call quality.
Cost Considerations
Making calls with VoIP technology can be a cost-effective alternative to regular landline service. With prices just a fraction of traditional rates, plus features like caller ID and call forwarding included at no extra charge, it's possible for users to save significant amounts on their communication costs without compromising quality or convenience.
Finding the optimal VoIP service for your needs is a critical aspect of communication. However, with so many different providers offering their own features, call quality and pricing plans comparison shopping can be tricky! Thankfully there are reviews which help you compare potential services based on what truly matters to maximize value-for-money. So get out there and find that perfect plan today – happy searching!
When choosing the perfect VoIP service, cost is certainly a factor to consider. However it shouldn't be your only consideration – you'll also want to ensure that call quality and features meet your specific needs. Finding an ideal balance of value and capability can transform how quickly business operates while keeping within budget constraints.
VoIP Advanced Features for Improved Hotel Operations
VoIP services are a great choice for businesses looking to streamline their communications. With advanced features like virtual PBX, managing VoIP calls is easy and convenient. This can be especially useful for larger organizations, as they offer the capability of handling multiple calls at once with no extra hardware or costs involved!
Automated call routing: VoIP allows for incoming calls to be automatically routed to the right department or staff member, reducing wait times for guests and improving response times.
Call tracking: VoIP technology allows for the tracking of all calls made to and from the hotel, providing valuable insights into guest behavior and preferences.
Multi-line support: With VoIP, hotels can provide guests with multiple lines for incoming calls, allowing for improved communication and productivity.
Mobile integration: VoIP technology can be integrated with mobile devices, allowing hotel staff to receive calls and manage guest requests from anywhere.
Virtual receptionist: VoIP technology can be configured to provide a virtual receptionist service, which can handle incoming calls and provide information to guests, even when staff is not available.
By implementing these and other VoIP features, hotels can greatly improve their operations, enhance guest satisfaction, and stay at the cutting edge of competitiveness.
Get Your Questions Anwered Now!
If you're ready to make the switch to a modern communication system – we'll explain your options, talk you through the installation process, and give you a detailed quote for the kinds of services for your business.