Coming Soon (OK, Eventually, Maybe) to a Hotel Near You: Webified Communications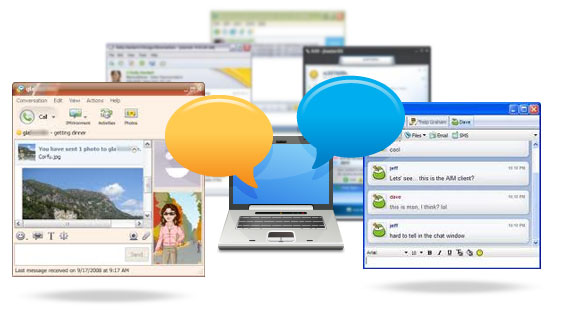 It seems like everything computer is now done through browsers, whether it's Internet Explorer, Safari, Opera, Chrome, or Mozilla. You may have noticed in the past couple of years that you can add video conferencing to the list.  If you've used, for example, Yahoo's Instant Messenger Video Chat feature you know what we're talking about.  Skype is another even more familiar manifestation of this growing phenomenon.
This capability is another in a series of outgrowths of what is known as WebRTC.  What is WebRTC, you ask?  It stands for Web Real-Time Communications.  In essence, it means using your browser that we are all familiar with to communicate in real-time with your peeps.  In a sign that, while having been around for some time as a vaporware concept it is finally beginning to realize the promise its early proponents envisioned, a new cooly-cool lingo tag has sprung up for it:  Webified Communications.   This "webification" of communications appears to be the next logical enhancement to UC (Unified Communications.)
UC, if you're not familiar with it, is the integration of several various real-time multi-media modes of communicating: texting, Instant Messaging, voice telephony, presence, conferencing (web, audio, video,) data sharing (e.g. whiteboarding/collaboration) yadda yadda yadda with various non-real-time channels such as email, voicemail, voicemail-to-email, SMS, and fax.  The promise of UC, lay in increased efficiency of communication, especially in a business environment.  Not atypically, it's in our personal technology sector that seems to be embracing WebRTC most vigorously, with enterprise being dragged kicking and screaming along.  The IT world has been bandying the word "Convergence" around for better than a decade it seems, and now it finally seems to be happening.
Even staid old PhoneSuite has embraced webification with its VoiceWare Browser Console and Browser Configuration interfaces.  You may also have noticed most email apps now give the option for viewing in a web page.
WebRTC had its semi-official genesis in May 2011, when Google (who else?) announced an open-source project for browser-based communications.   As is the SOP, this got the ball rolling as far as getting the standardization process started through the IETF (Internet Engineering Task Force) and the W3C (World Wide Web Consortium.)  So far Google's Chrome and Mozilla's Firefox have been leading the charge in embracing the standards natively.
The only thing holding back WebRTC, for now, is that it's not yet being widely natively embedded in our devices.   You still have to install an app.  As the standards take shape, this will change quickly.
How does this affect the hospitality industry?  For now, not much, other than to recognize that it might be time to start reading the tea leaves.  In the meantime, all that's really necessary is for motel/hotel management to begin doing its research and be aware of this next "velvet revolution" in IT.  It would be a good idea to touch base with your IT folks, to make sure they too are aware of what's coming.  And start making plans now to start the process of laying in more bandwidth if necessary.  The first implementation of hospitality webified communications (Webicom?) will most likely be for your staff, both for internal business communication needs, and also for that critical interface with potential guests.  The time is not far off when Skype or something similar will provide a more human interaction between traveler and innkeeper, such as video chatting in real time.  Think of the benefits of a live camera feed at a resort property beach or pool.  Or for the business client, a live video tour of your meeting and banquet facilities, guest rooms, and even outside grounds.  Not far behind will be the actual guest on-site experience.
Travelers will come to expect the same real-time communication-rich experience they've become accustomed to in their personal lives.  Picture guests in Buenes Aires video chatting on the room's ginormous smart TV with their friends back home as they share scenes and clips from their cruise to Antarctica.  The future is coming in real time, and it's on the Web!  As we are so fond of saying here at PhoneSuite:  Will you be ready?